Digital drums were our original starting point. In keeping with our theme, we are revisiting our popular Beta series with some new upgrades and features. Sturdier hardware, larger pads, and more playable zones are all on the menu for this year's new models. We are helping bridge the gap between quiet practice and performance. Lose yourself in our digital world.
Description
DD BETA XP2
Product Details
Low profile rack system
Red aluminum rack up rights for a custom look
Throne included
Headphones included
Sticks included
Dual zone snare drum
8.5 inch single zone tom pads
12 inch single zone cymbals with choke
Continuous hi hat controller
Complete electronic drumset with everything you need to play out of the box.
Specs (Other)
170 sounds
Record function
Up to 4 user kits
Parameter adjustments for sensitivity
Play along songs
Metronome
Module Features 10 1/4 inputs
MIDI OUT
LINE IN 1/8 input
Headphone input/Stereo output
Metronome
Reverb
Colors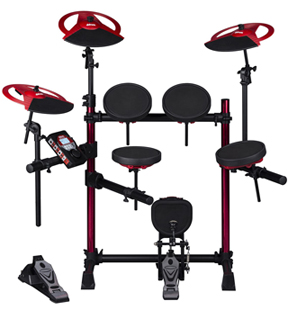 $549.00