Electronic Drum Amps from ddrum are a must when you are looking to take your electronic drum kit to the live stage or playing situation. Established in 1983, we have been an Electronic Drum Kit innovator of over three decades. Today, we offer the electric drummer the option of our ddrum 200 Watt Electronic Drum Amp or the ddrum 50 Watt Electronic Drum Amp which are both featured rich for compact drum amplifiers. Let us help you achieve the sound you desire so you can dial things in your way. ddrum – Everything for Today's Drummer.
DDRUM PERCUSSION AMPS
Description
The perfect practice amp, with enough power for the gig. The DDA50 electronic percussion amp is a great tool for the shed and the stage. With a thumping 10″ woofer to feel the bass notes, to the 2.5″ tweeter that keeps the snare cracking and the cymbals brilliant. Also features MP3 input and headphone jack for quiet practice.
Finish
Black With Red Appointments
Product Details
1 10″ woofer
2.5″ tweeter
2 inputs 1/4 Plug in
1 auxiliary input 1/4 Plug in
1 headphone input 1/8 plug in
1 MP3 input 1/8 plug in
15.5 inches X 15.5inches X 16.25 inches
Specs (Other)
50 watts
1 10″ woofer
2.5″ tweeter
2 inputs 1/4 Plug in
1 auxiliary input 1/4 Plug in
1 headphone input 1/8 plug in
1 MP3 input 1/8 plug in
Colors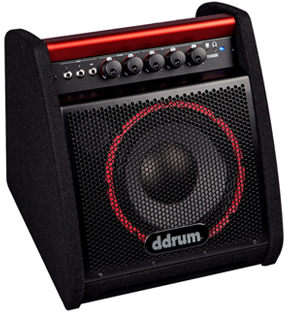 $239.00